This is the beginning of a series of portraits of women famous for their exuberant physicality, who have characterized fashion, cinema, TV, theater and traditions both in Italy and abroad. Italy has its curvy glories and we have chosen to begin by telling the story of a young symbol of the cultural revolution around the positive acceptance of female forms in fashion. The curvy friends who are fond of afternoon programs certainly know the program "Detto Fatto" broadcast on Raidue TV channel, which was hosted by Caterina Balivo for a long time and now by Bianca Guaccero. The highlight of the program is the time with Elisa d'Ospina, the curvy fashion tutor who answers the viewers' questions about style, fashion, make-up. A few weeks ago, during the show, Elisa wore palazzo pants with prints in teal green (lookbok) and on Sunday October 20th, she wore an over-the-knee dress in an animal print (lookbok) for a shot on her instagram profile.
It is Elisa's preference for Lizalù that gave us the idea to talk about the style of this beautiful thirty-six-year-old native of Vicenza; she is one hundred and eighty centimeters of appeal, on whom soft and feminine curves are nicely distributed and who every afternoon converses face to face with women whose sizes go from 44 upwards.
But who is Elisa D'Ospina? How did she start her career, what caused her growing popularity and what lifestyle and fashion does she propose on the pages of newspapers, on fashion shows, on her social profiles, in advertisements and in the words of her book: "The Curviest of Lives"?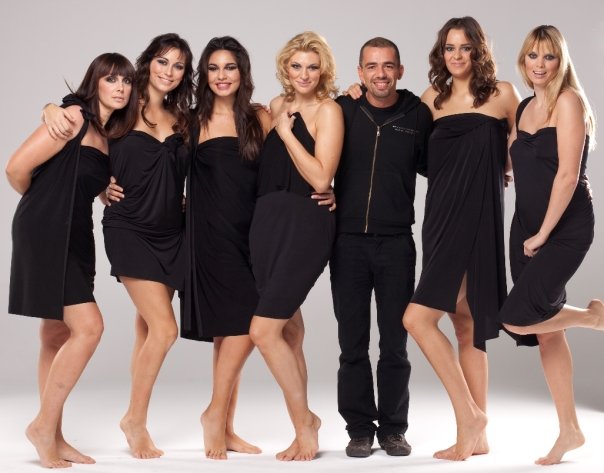 Marina Ferrari, Valentina Fogliani, Elisa D'Ospina, Mjriam Bon, Eleonora Finazzer and Aija Barzdina with photographer Luca Patrone for the campaign"I am not a fashion victim"
Proudly walking the catwalk in her size 48, Elisa has shown that beauty does not respond to a single rule. In tune with the "curvy revolution", she believed in a new way of understanding femininity and of living her body in complete freedom and serenity. Her first experience in the world of fashion began at the age of 15, at an audition for the selection of new faces for TV and advertising, where they said to her: "If you want to enter this world, you'll have to lose at least 30 kilos, otherwise you can just go and clean the toilets".
Elisa didn't believe that, and with commitment and self-confidence she was able to make a name for herself in fashion and on the catwalks without neglecting her studies, getting a degree in communication sciences, thus demonstrating that you can decide to have a positive attitude, carry out projects and make a way for yourselves in your life even if during your childhood so many people made you believe that you were different. "I was a little girl and everybody told me that my legs were too big," she said during a famous interview with Vanity Fair a few years ago, and she continues her story, "You can understand what I'm saying: In junior high school I was already quite curvy and a meter and 78 centimeters tall. Obviously, everybody thought I was older. Which I did not like at all. The turning point came in my first year of high school, when I became a magnet for men. It was then that I began to understand that my physicality was not a cross to bear, but a resource"
Her private photos, the ones she posts on her very popular instagram profile, show a girl who loves high heels, soft lines, single-colored dresses with irregular necklines, side slits that glide gently over her hips, but she does not disdain the boho chic style either, with loose skirts in floral patterns that are in no way gaudy and a use of black that is never tiring. Even the outfits she designed for curvy girls on TV always try not to indulge too much in black or blue, "which are a godsend but are not the only colors that we curvy women can wear" as she often explains to people who ask for advice and partecipate live in the show. Colorful blouses, cuts with small patterns and combinations with other shades, more attention to make-up and a strategic choice of shoes are the strong points of Elisa's choices of style.
For years she has been pursuing a battle against anorexia and bullying, and thanks to her commitment, in 2009 she was appointed by the Ministry of Health as a testimonial for "The Three Days Devoted to Health", a confirmation of the fact that wellness can have many forms, and that we must not blame ourselves if we do not fit into the beauty models of advertising. Ambassador of the #bodypositive, Elisa D'Ospina in 2014 together with five other curvy models and for the Onas non-profit organization, she designed the "Curvy Can" project, an international awareness campaign against eating disorders. In order to make it happen they then decided to pose without any veils, shouting "I'm not a fashion victim", for the Milanese photographer Luca Patrone. Due to the launch of that campaign 5 years ago, recently Elisa told Huffington Post that she was often asked to lose weight in order to work. "I replied that I would never give up an inch of myself to work. If a doctor told me about it as a matter of health that would be ok, but to please others, never".