In recent years we have witnessed the revival of curvy fashion, which has finally been cleared by the fashion system with the appearance on the market of curvy-friendly brands or collections specifically dedicated to those who have a few extra pounds. Among the hot brand names of this fashion is also Lizalù, the most popular plus-size fashion brand among women of all ages.
Even the market data shows that ... curvy is beautiful! Today we are witnessing a new emancipation of women, a woman who is strong and well aware, one who loves her body for what it is, even if it has a few extra curves.
Today the most famous brands are creating cool garments for all sizes and each of us, even if we are not actually a size 44, can create the wardrobe of our dreams: dresses, sheath skirts and trendy underwear are now also made for plus-size women.
There are also animalier mini dresses and skinny jeans, worn by teenagers who do not correspond to the thin and androgen bodies to which the international catwalks have accustomed us for way too long.
Dress F580XAIIT120
The motto of the new generation of curvy women seems to be precisely "I love curvy!".
Some market data to understand the phenomenon
As evidence of this democratization of fashion here is some significant market data: the adolescents who, in the last four years, have purchased a curvy fashion item or one for plus sizes have increased from 19 to 34% and companies have followed this trend dedicating themselves to curvy clothing.
Today the world is more and more open to diversity and the sensibility to curvy fashion and plus sizes is growing, with important signs coming also from fashion shows and designer communication campaigns.
In order to understand this, all you need to do is look at the new 2019 Lizalu Spring/Summer collection, which focuses on bright colors, original and colorful patterns and dresses of all kinds to really glamorize each one of us.
GALLERY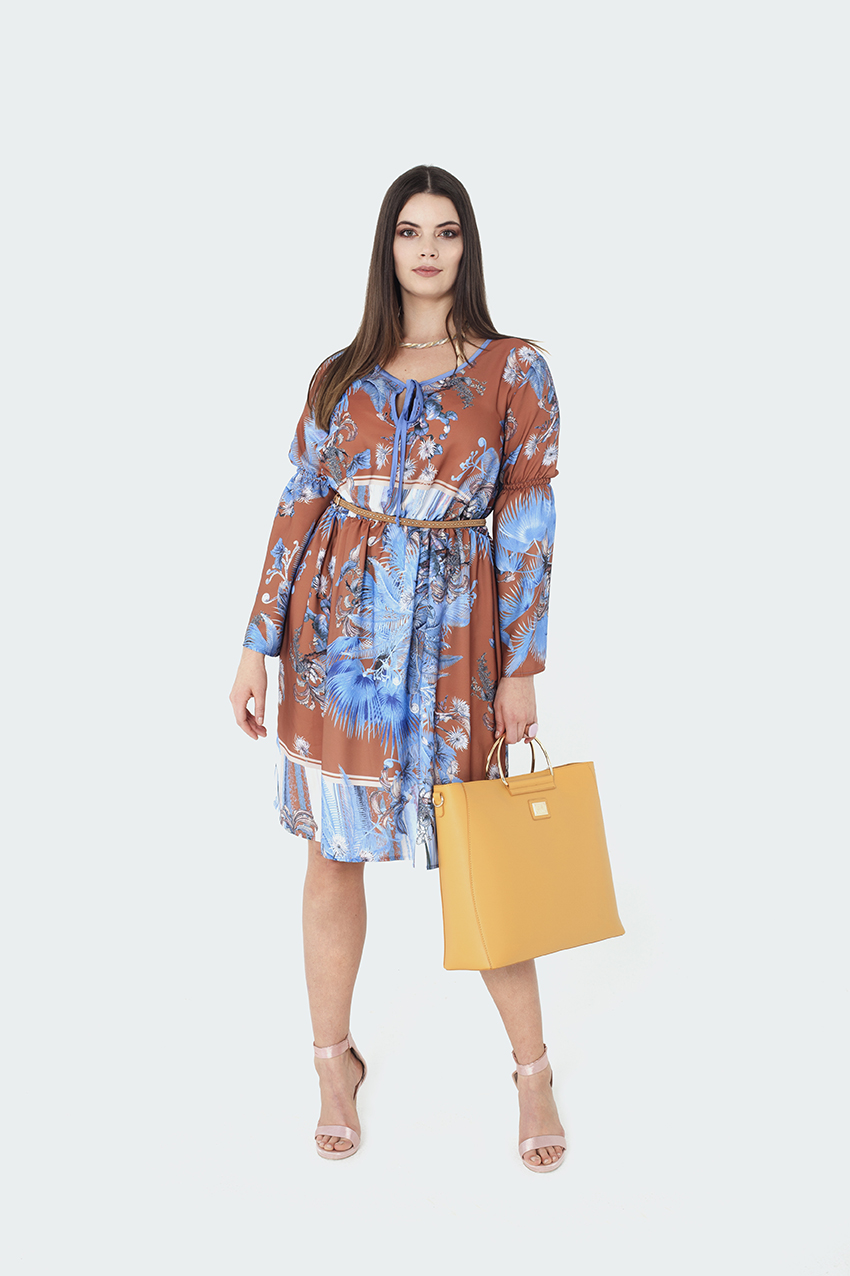 Dress F162XAIC8580                                            Dress F453XAIA8331                                           Blouse F220XAI04756 | Skirt F646XAIH1092
From plus sizes to curvy fashion: an important cultural change
If until a few years ago the woman with a few extra pounds was stigmatized and classified among the so-called "plus sizes", today fashion houses and international brands prefer to talk about curvy fashion. This is a real cultural change, which goes far beyond the purely lexical issues, and today, the garments for the curvy woman are in the forefront in fashion magazines. The buxom woman today is trendy and, for fashion brands, this is a market reality to invest in.
As early as 2015 Candice Huffine, the first curvy model to play the leading role in a Pirelli calendar, announced this new era of fashion, capable of truly appreciating every woman.
A revolution of the fashion system that has not yet ended today, given that in many cases the fashion market opposes natural beauty to cultural beauty. With the former, you state the beauty of every woman, even if she is not aware of it. With the latter you indicate, instead, the world of the big brands that still today, are too often looking for muses and goddesses to make their articles of clothing known.
Curvy fashion and online shopping: a winning combination
The main sales channel of curvy fashion is e-commerce, accompanied by the chains of the big brands that are beginning to offer garments specifically dedicated to plus sizes, although in some cases there is still a tendency to "drive curvy women away from boutiques" so as not to tarnish the brand image in any way.
This is certainly not the case with Lizalù, which has always thought of us curvy women as an ideal of beauty to glamorize with clothes that follow the latest trends in international fashion, adapting themselves perfectly to our curves. Because every day, we too join the cry of "I love curvy!".
Come and discover all the items in the new collection.