We curvy women love to enhance our body and we know how to choose colors and fabrics that are able to distinguish us and make others appreciate us despite our curvy shapes, always respecting our personal style. Here are some useful tips for feeling beautiful at all times.
Curvy Women: Fashion for Those Who Love Themselves
Even if you are not particularly tall, you can find clothes that suit you. For example, you could choose loose-fitting clothes instead of tight-fitting fabrics, which highlight your shapes, playing with particular patterns and choosing the colors that best suit your complexion. A fashionable look will enhance our strengths, such as our face and eyes.
Our piece of advice is, for example, to choose a pair of baggy pants matched to a sweater that falls on the hips and use the accessories to stand out with style and originality. In the Lizalù Spring/Summer Collection, you will find lots of suggestions for a colorful and fresh curvy woman look, perfect for office life and evenings with friends.
The beautiful season also invites us curvy women to renew our wardrobe with trendy clothes and accessories really suitable for everyone, both for those who love the classical style and for those who love a more daring and modern style. From the classical suit to baggy trousers, up to smooth, soft clothes, there are really many ways to love yourself and give yourself a really unique look!
Curvy Fashion: The Perfect Skirt for You
For those of us who love to feel feminine on every occasion, our piece of advice is to choose a skirt that enhances our shapes: You know that not all skirts are the same, and you have to find the one that best suits your silhouette. The trend of spring 2019 is that of pastel colors, or you may prefer the classical black, set off with a colorful garment, such as a light sweater or a blouse with an original pattern.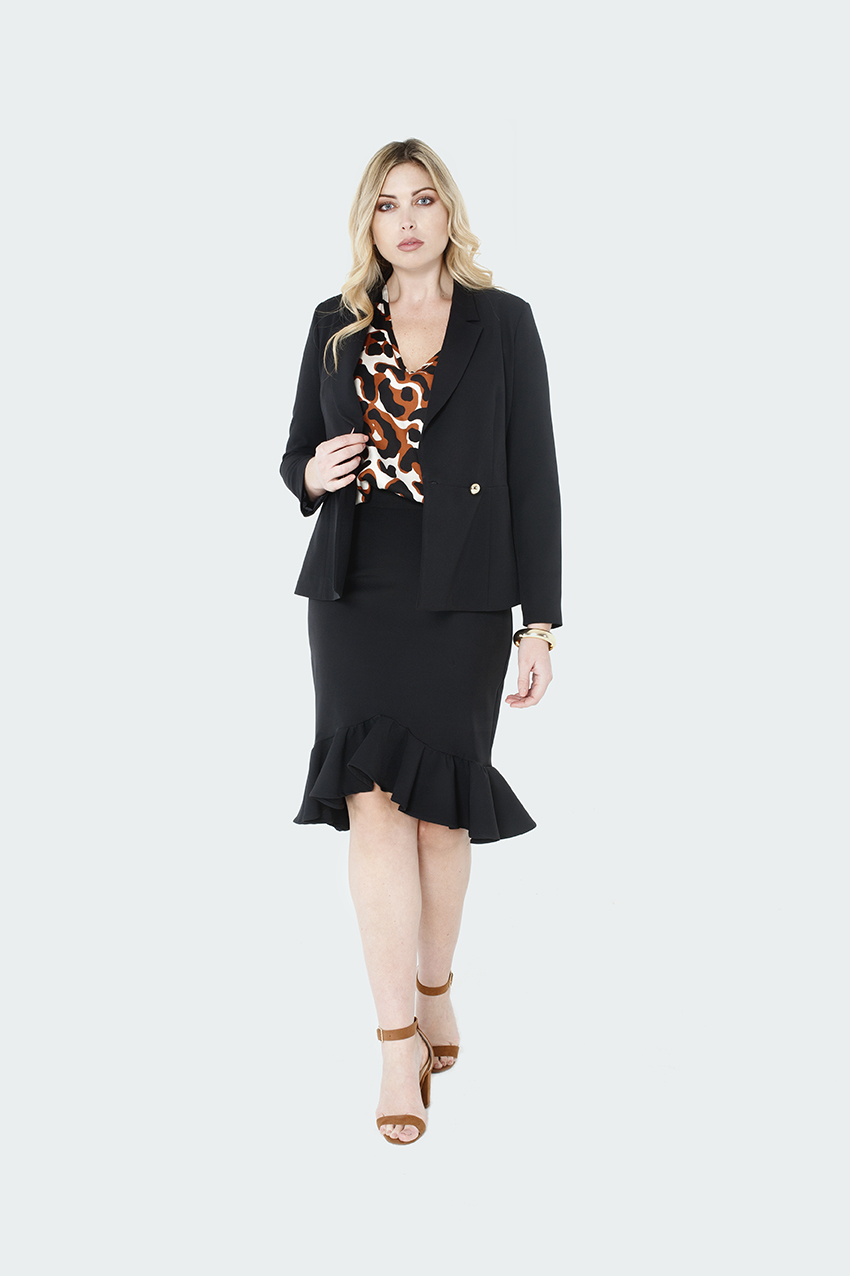 The perfect skirt for the curvy woman is the one that does not show the hips but slims the waist like the classical bell skirt that really suits all of us and which is perfect with a chiffon or silk sweater.
Curvy Women: All the Elegance in a Feminine Dress
Even we curvy women love femininity and for this reason, in the new 2019 Lizalù Spring/Summer collection there are numerous dresses for those of you who love to make your most romantic and feminine side known. For example, we suggest a dress that enhances your shapes, glamorizing your figure with a floral pattern that is always in fashion.
Or you can dare with brighter and more striking colors like red and with a particular pattern like in this dress, suitable for the curvy woman with a strong character.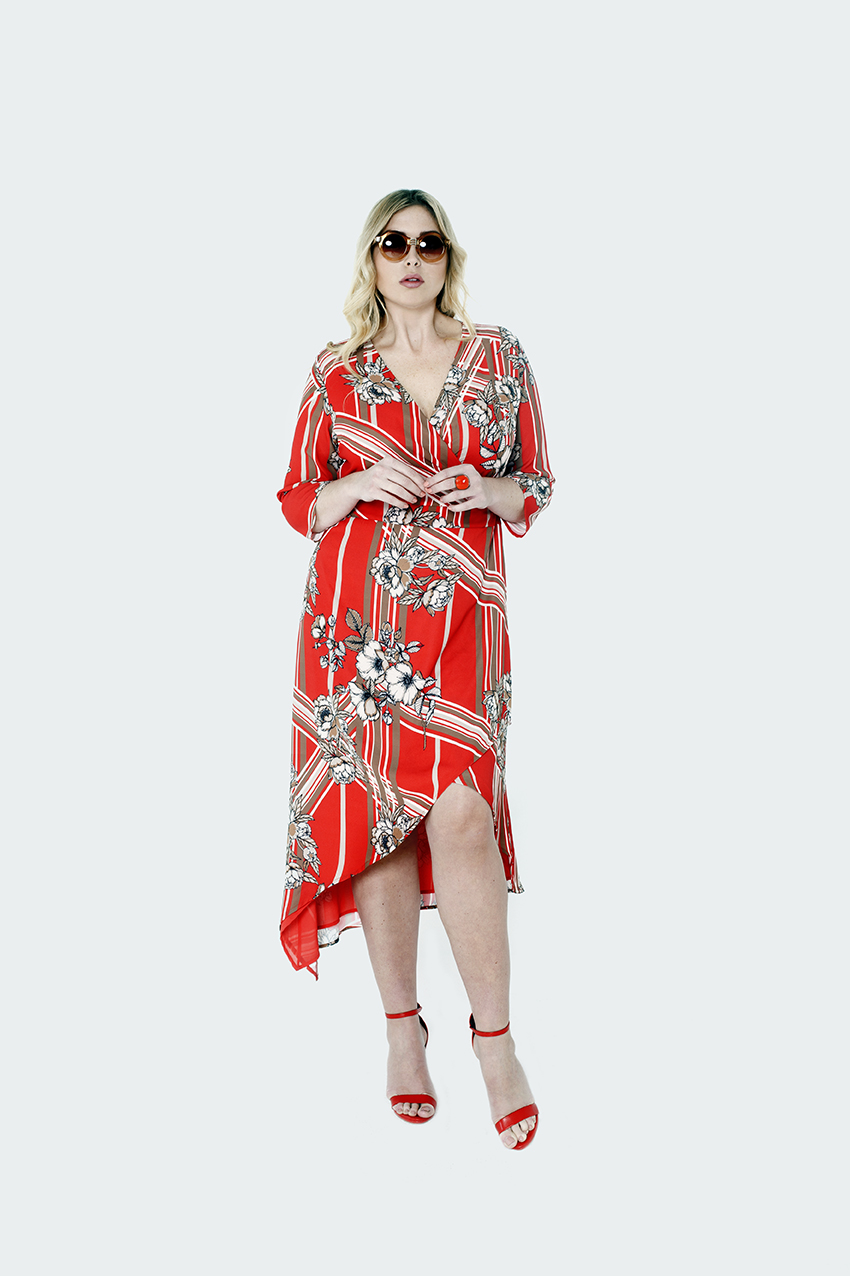 As you can see, there are so many suggestions for your spring/summer look, and we invite you to discover them in the Lizalù stores.
Clothing for Short, Curvy Women
There are a lot of good tips also for those who are not too slender and still want to feel beautiful. As for your clothes, try to wear long, not-too-tight models, maybe made of pleats and very small patterns. Trousers must not be skinny, but slightly flared, and as for the top, jackets and sweaters must not exceed the waist in length, so as not to cut your shape. Then play with shoes, because if you love sandals and décolleté dresses, take advantage of this to walk on high, stiletto heels.
Elegant Dresses for Curvy Women
If you are planning a special evening or a ceremony, you can make a good impression with perfect dresses made for you. For the evening, dark colors such as black or blue are obviously quite suitable. Perhaps you can choose a dress that is floor-length but made of a light fabric that does not weigh you down too much. If you prefer a short dress, opt for something flared and possibly just above the knee, so as not to cut your silhouette. For weddings and baptisms, instead, choose something more colorful and lively, but avoid white in favor of neutral colors. A nice suit with a short, flared jacket will prevent you from mortifying your shapes.
Sizes for Curvy Women
In order to be considered curvy, a woman must wear a size larger than 46. In some cases, however, even those who take a size 44 accompanied by an abundant breast and smooth, buttery shapes can be considered as such. In addition to the right models, paying attention to the correct size is also important to feel at ease. Often, sizes can change from brand to brand, so it is important always to try on clothes when you are looking at a new brand and find the right size that suits you best. On many e-commerce sites, there are also special conversion tables for sizes from Italian to English and American.
Clothes for Chubby Women
Many clothes are designed for women who are a bit curvy, because due to their style or conformation they can fit them better. Patterns are also important to consider: Designs that are too large should be avoided in favor of smaller, minimalist patterns. In order to hide the extra pounds, avoid blouses that are too loose or too long, which could make the situation worse. Clothes must gently accompany the shapes and make the body more harmonious.
Swimsuits for Plus-sized Women
It is important to know how to choose the right outfit for the beach as well. A one-piece swimsuit is usually the most suitable for curvy women, perhaps the elastic, body-shaping type, possibly in a solid color, useful for slimming your silhouette. However, for a few seasons now, even bikinis have become suitable for the most buttery-soft shapes, especially those bikinis with the high 50s-style pant, just like a real pin-up.